...
We all love to stay trendy and show off our skills with fashion. But we need help at times. Don't worry girls, I'm there to help you this beautiful Spring Summer (and maybe the coming seasons) with all your fashion needs!
Read on to know the FASHION MUST HAVES this season!
1. Show off Some Skin
Are you always waiting to show off some skin? The present fashion trends are simply meant for you! We have spotted celebrities all over the world sporting this trend. The runway has been loving it too, I'm sure you will as well!
GO BARE!
2. Cropped Culottes
I don't have the waist or the height to go for this trend, but those of you who can, don't miss out this one. It gives you a boost of chic, and instantly makes you look so-very-classy. Carry a nice tote to go with the look and your look shall scream glam! *_*
3. Lace-Up Sandals!
Yes, they are back into fashion from the early 2000's and we are loving it! Although they are not easily available in the market, they soon shall be. Till then, check out the following link and purchase a pair! Thank me later. Team it up with a short denim skirt, a white cotton top (also maybe a hat if you're visiting a beach) and look stunning!
4. Espadrilles
You're probably wondering what they are? Let me tell you, it's when comfort meets chic. This Spring Summer '16 is totally about it! Whether you're going for a brunch with your besties, a coffee date, a long walk or shopping. This pair is going to be your friend all along!
5. Go BABY PINK and BABY BLUE
This time the Pan-tone Colours of the Year were not really that big of a taker. Although, these shades are amazing for Spring Summer. They are light, attractive and give a sophisticated feel to the outfit. You could pair up a dark color to go with these light ones. Go bold with your lips while keeping the eyes subtle and rock the look! Personally, it's my favorite.
6. Pop Colors
'How many colors is Spring Summer '16 about?' Well, we've recently spotted celebrities sporting a specific combination. Orange and Hot Pink. They've turned out to be total show-stealers and are going to last for quite some time! Though they're a little too bright, and could turn out to be a mistake if not paired or carried well, try your best and don't be shy.
7. Floral Love!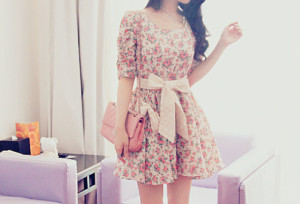 Yes, too many trends coming back to fashion! Spring Summer '16 allows you to flirt in a nice floral dress with a pretty sling bag. Add cute hair accessories and you are ready to go!
Also, don't forget to be comfortable!! And definitely share your views with us by commenting below!
Comments
comments