...
Being a Punjabi girl is swag. When she hits the road, she walks with that "Main sabki favorite hoon" type attitude and she completely nails it every time. She is a pro at turning heads wherever she goes with her energetic vibes and her immense good looks, Yeahhh..!  Punjabi kudiyaan are beauties with witty humor to die for. In short she is a complete package and best breed you will ever come across in your dating period.
If this description was short, Lemme give you some awesome reasons why should you date a Punjabi girl to experience a roller coaster – Yes, they are this unpredictable. But Unpredictability is thrill, Right? Just like a roller coaster 😉
Also Read: 13 Types Of Friends Every Girl Has In Her Twenties
1. Those Bhangra type Dancing skills
Let's admit it Punjabi music is something which makes your feet go in a tapping mode instantly. Your punjabi girl will be a master at killing those bhangra steps with all that nakhra required. Perfect for rocking any stage in any given situation.
2. Her love for food will be more than anything else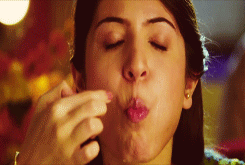 Yes, when you are eating with her you don't need to count calories because they never care to do that. In fact she would be the one who will introduce you to some of the most lip smacking recipes.
Those Amritsari Cholle Kulche and Makki ka saag will not be a dream anymore.
3. Can cook tastiest food too! Bonus!
Being food lovers from generations, Punjabi's are gifted when it comes to cooking. She will love to eat, love to cook.
"Butter Chicken?" Anyone?
4. Diet? Sorry,What did you say ?
Yes, they can't hold of the word called diet. They start it with aloo prantha and ends it with samosa.
5. Those Patiala Suits and Punjabi Juttis.. Hayeee.. !!
Who else can look million bucks in that attire? She is expert at carrying colors with utmost ease and grace.
6. Her heart will melt in seconds
She can't hold grudges for more than 15 minutes. "Dil makkhan hai ji Ladki ka.. "
7. Punjabi Folks = Funjabi folks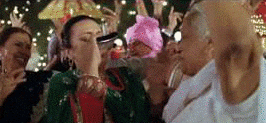 Yes that's what these people are known for, the fun streak in them. She will let go the seriousness of matter just by saying Koi naa.. ! 
8. Best Gedi partner you can have
Gedi , yes that's what punjabis call a long drive and she will be the element which will make your drive worth remembering because she will be knowing all the nooks and corners of that scrumptious street food and will do those drive stunts too.
9. She will have the coolest family in the world
They will make you eat like there's no tommorow and they will make you laugh your heart out. Don't be surprised if her father asks you to have drinks with him.
Must Read: 7 Things That Happen At A Girls' Sleepover
10. Drinks? Ohh, they are Patiala Peg Specialists !
If she drinks she will amaze you with some serious competition. Get ready to hear  "Tere se jyada capacity hai meri ! "
11. Nakhra hai Wakhra!
Desi Swag..! Hands Up..!
12. Gorgeous girls aka Sohni kudiyaan 
With her killer looks she can make anyone go weak in their knees. It runs in their genes.
13. Those Big fat Punjabi weddings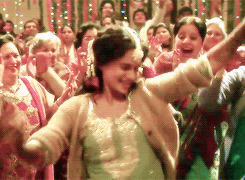 A Punjabi wedding is a grand affair having best of the best foods, unending drinks and those crazy Punjabi numbers plus some over excited rishtedaars to dance. She will introduce you to all this fun. Boy, you will enjoy every bit of it.
14. She can lift your mood instantly
With her never ending silly but cute talks she will make you laugh in the gloomiest situations. And not to forget she can crack the funniest joke in an unbeatable tone.
15. A perfect mix of traditional values and modern ethics
She is grounded in her roots. Kind if girl you can take to meet your parents.
16.Your partner in crime while shopping.
And she knows best brands too. Punjabi's have a knack for shopping. She will pick up that perfect shirt for you without struggling. Did I mention excellent bargaining skills? Add that too.. 😉
17. She is straightforward and will bring you in right direction when you loose track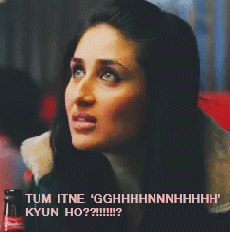 She can give you reality check whenever you will need it. Because "Hum dil mein kuch nahi rakhte"
Honesty is the word.
18. She wears her confidence like her Baali
What else is more sexy than a girl who is confident, full of life and is able to illuminate the surrounding with her dazzling smile ?
19. Those phrases!! Chaddo ji… !
By God.. !! These girls have the most lovely language phrases with most lovely expressions to match them.
20. She will be the inspiration you need
Because she has it in her blood and she won't give up easily. She know how how to fight those odds and will rise like a warrior.
Strong, Vibrant, fun loving, beautiful, cheerful, and a real swagger … Yes! That's we are.. "The Punjabans ".
Also Read: 6 Habits That Makes You A Classy Woman
Have more cool reasons, tell us in comments down !
Comments
comments